THE INTERIORS OF THIS GLAMOROUS PALM BEACH HOUSE
THE INTERIORS OF THIS GLAMOROUS PALM BEACH HOUSE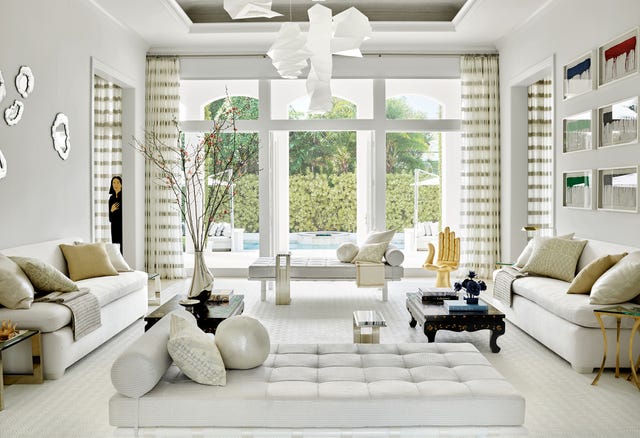 Nearly 25 years ago, when the designers James Aman and John Meeks first began working together,
they landed the arts philanthropist Emily Fisher Landau as an early client.
True to her cultural passions—she is an honorary trustee of the
Whitney Museum, to which she has gifted hundreds of paintings—Fisher Landau had a vast assemblage to display in her Park Avenue apartment.
A previous designer had wanted to rip up the original Rosario Candela architecture, the better to showcase her artworks.
"Emily told us, 'I may shop in a cold gallery to buy art, but I don't want to live there,'
" Aman recalls. "And we understood that."
In the ensuing decades, the ELLE Decor A-List design duo's clientele has predominantly consisted of art collectors,
including the owners of this Palm Beach vacation house. The Washington, D.C.–based couple,
who had hired the duo to design their city house, explained that they were looking for luxurious,
timeless interiors in Palm Beach that wouldn't compete with their Ai Weiwei paintings and Jeff Koons sculpture.
There was also the challenge of accommodating the spontaneity and whims of kids and other houseguests;
the couple have three adult children and seven grandchildren. Looking to expand from
a smaller previous home nearby to something spacious enough for both playrooms and Hockneys,
they purchased this five-bedroom contemporary ranch-style house in 2014 on the north end of town.
"Our old house was traditional in an old Florida sense, with lots of chintz,"
says the wife, who loves throwing cocktail parties and dinners with her husband, a real estate developer.
"We were ready for something different—an elegant beach house."