HOW ONE CREATIVE COUPLE WENT FROM BAUHAUS TO PENTHOUSE
HOW ONE CREATIVE COUPLE WENT FROM BAUHAUS TO PENTHOUSE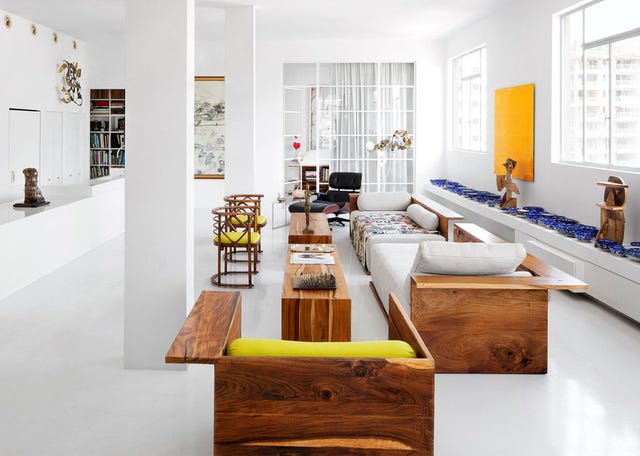 When an ancient cave collapsed in a park outside of Jerusalem, Italian artist Ivo Bisignano and his husband,
architect Alex Meitlis, knew that meant at least one thing:
They would be sharing their Tel Aviv loft with a collection of wooden roommates for a while longer.
It was Meitlis who had convinced Bisignano to exhibit his sculptures in a Judaean-era grotto. But in the fall of 2019, before the pieces were installed,
the cave collapsed. "For the next three months, we were sleeping with them," says Bisi­gnano,
a former fashion director for Vogue Italia, of his towering figures.
And then the pandemic hit, throwing the couple off their usual rhythm of three weeks in Tel Aviv and two in London,
where Meitlis oversees the design of restaurants for his longtime friend, Israeli chef Yotam Ottolenghi. For months,
he and Bisignano quarantined in their loft with their timber house­guests taking over the living room, terrace,
and studio. They did eventually get their sunlit breakfast nook back after securing another cave; the exhibition,
"Human Forms," opened last August in Beit Guvrin national park, a man-made quarry dating back to about 112 B.C.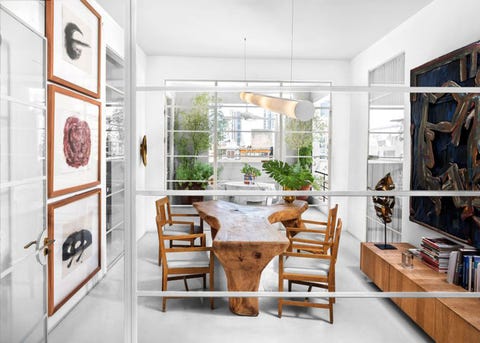 For this creative couple, life is always an adventure—starting with the loft they share in a former industrial building in Florentin, a gritty neighborhood in south Tel Aviv. It's been Meitlis's home for more than three decades. As a young architect, he rented a tiny studio in the 1950s structure for his nascent practice. "My god," he thought then, gazing out the window at the bustling streetscape, "how lucky I would be if I could afford to buy this place." Soon, he did. Then the one next door. Within a few years, he owned all nine workshops on the top floor, tearing down walls to create a penthouse loft. สถาปนิก