While Demeyer's flair for furniture and decorative accessories
While Demeyer's flair for furniture and decorative accessories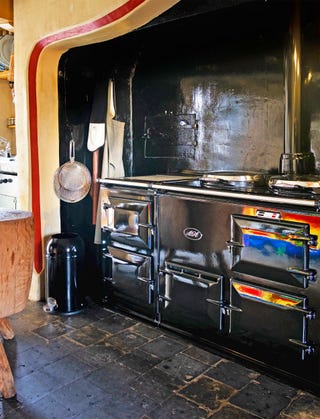 While Demeyer's flair for furniture and decorative accessories has served him well,
he says he feels that all interiors—both his own and the ones he designs—should foster an energy in the space that's more than the sum of their parts.
In that way, he believes, they will feel fresh and interesting for a long time to come.
In his own dining room, for instance, he pairs the original Gothic fireplace with a fanciful plaster-and-resin table,
which he then cheekily tops with candlesticks resembling cigarette butts.
Demeyer's decorating strategy is an intuitive one. He maintains that the best interiors embrace the quirks of their era and slough off dogma.
"Designing an interior is not a religion," he insists.
"I often compare myself to a cook. If a recipe calls for pepper, why not use cayenne?"
If restoring a medieval hunting manor would seem like any antiquarian's fantasy, i
t's not the only one Demeyer has entertained. He dreams of one day buying a ramshackle English estate and reviving it,
transforming its old cottage and surrounding gardens into the kind of setting that one of his heroes,
the English photographer and Renaissance man Cecil Beaton, would have been happy to call his own. Such a feat,
says Demeyer, would unite his passions for the old, the unexpected, and the experimental.
And it would be an irresistible new adventure. สถาปนิก